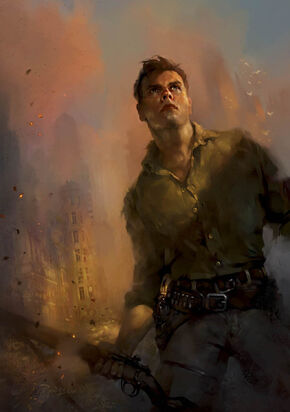 Robert Neville thinks he is the last man on earth in Richard Matheson's I Am Legend.
Robert Neville is described as a white tall male, thirty-six, born of English-German stock, his features undistinguished except for the long, determined mouth and the bright blue of his eyes..."
Biography
Edit
Early Life
Edit
Not much is know about Robert's life, other than the fact that he was stationed in China "the War". He had met his wife Virginia and they had a daughter together. They both eventually succumbed to the virus. Somehow, he was immune to it from a bat bite in Panama, as it had a strain of the virus he calls "vampirus" and he began to become immune.
After the Pandemic
Edit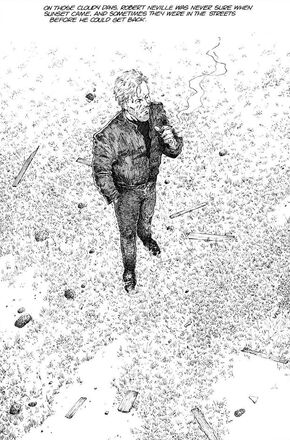 Robert Neville died some time in 1979 (In the Novel by Richard Matheson).
Film Versions
Edit
The Last Man on Earth
Edit
See full article: Robert Morgan
The Omega Man
Edit
See full article: Robert Neville (Charlton Heston)
I Am Legend (film)
Edit
See full article: Robert Neville (Will Smith)
External links
Edit
Ad blocker interference detected!
Wikia is a free-to-use site that makes money from advertising. We have a modified experience for viewers using ad blockers

Wikia is not accessible if you've made further modifications. Remove the custom ad blocker rule(s) and the page will load as expected.